Tree & Shrub Care in Radford, VA
Your Partner in Plant Health Care Services
At I.V. Tree & Shrub Care, we take pride in being a reputable tree and shrub care service provider that has been catering to the New River Valley areas since 1999. Our specialized focus on soil and trunk injections sets us apart from the competition, allowing us to offer effective solutions for combating insect infestations, fungal diseases, and nutrient deficiencies.
Why Choose I.V. Tree & Shrub Care?
As the owner and operator of I.V. Tree & Shrub Care, Jim is a highly knowledgeable and experienced Certified Arborist and Pesticide Applicator. With a profound love for plants and a steadfast commitment to their well-being, he is wholeheartedly devoted to delivering exceptional care for his customers' trees and shrubs. In addition to his extensive expertise, Jim is also a proud Army veteran, bringing the same dedication and discipline to his work that he honed during his military service. Jim's expertise and passion, combined with his military background, ensure that your greenery receives the highest level of care and attention.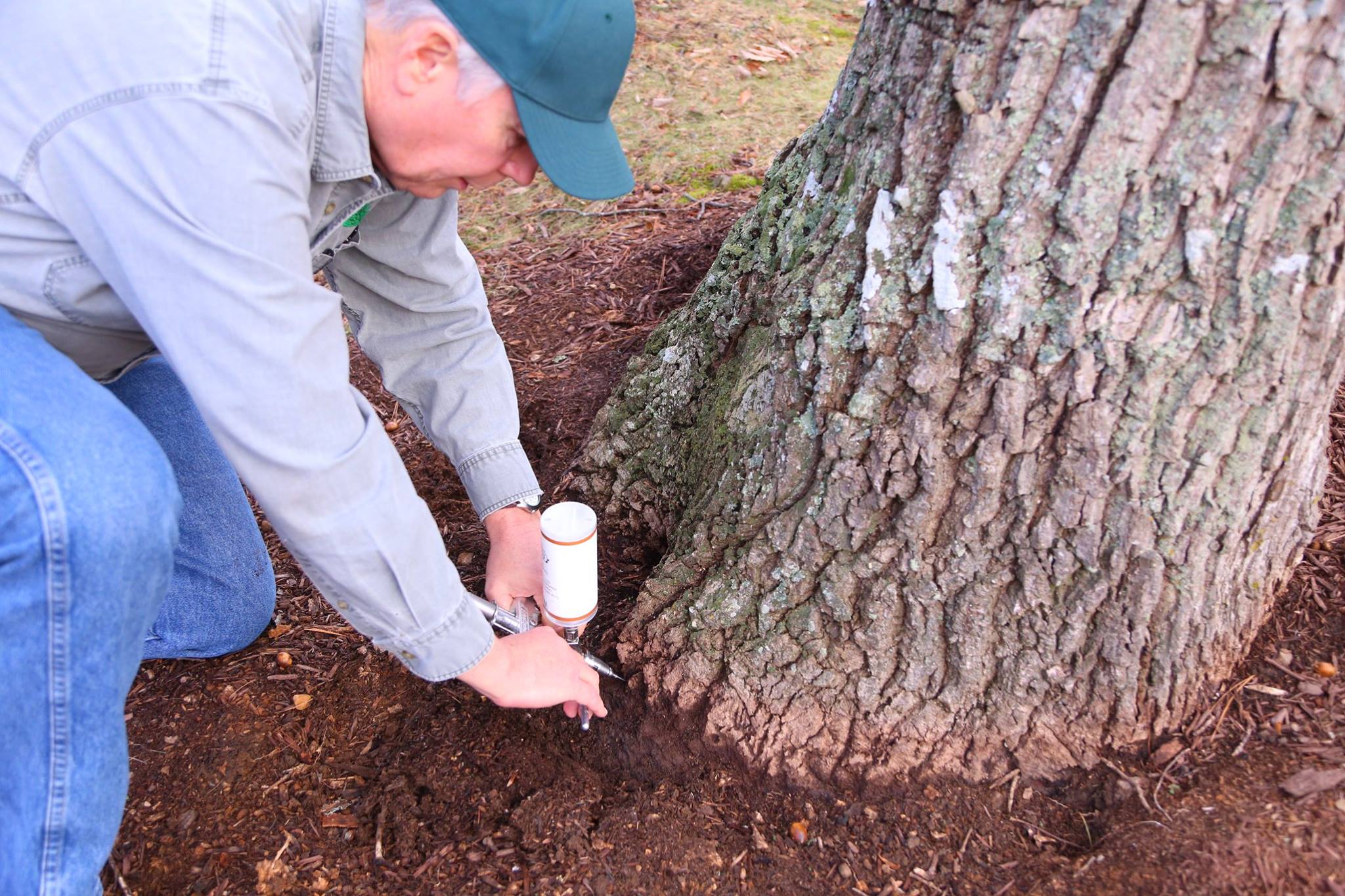 Plant Health Care Services
At I.V. Tree & Shrub Care, we understand the importance of maintaining healthy greenery. That's why we offer a comprehensive range of plant health care services to ensure the vitality and beauty of your landscape.
Insect Infestation Control
Insects can wreak havoc on your trees and shrubs, causing substantial damage if left untreated. We specialize in identifying and eradicating insect infestations using the most effective methods available. Our experts will assess the situation, devise a tailored treatment plan, and administer targeted insecticide injections to halt the infestation and protect the health of your plants.
Fungal Disease Management
Fungal diseases can rot away the life of your trees and shrubs, leading to irreversible damage. With our extensive knowledge of plant pathology, we diagnose and treat various fungal infections effectively. Through trunk injections or soil treatments, we deliver specialized fungicides to combat the disease and promote healing, ensuring your plants thrive.
Nutrient Deficiency Correction
The lack of essential nutrients can weaken your plants' immune systems, leaving them vulnerable to various issues. At I.V. Tree & Shrub Care, we provide expert analysis of your soil and plant health to identify nutrient deficiencies. Through targeted soil injections or foliar spray applications, we replenish the necessary nutrients, enhancing the overall health and vigor of your trees and shrubs.
Customer-Centric Approach
At I.V. Tree & Shrub Care, we prioritize customer satisfaction above all else, and we strive to build long-term relationships with our clients by providing a personalized and tailored experience. Our certified team of experts will work closely with you, addressing your concerns and answering any questions you may have.
Flexible Appointment Scheduling
We understand that life can get busy, which is why we offer flexible appointment scheduling. At I.V. Tree & Shrub Care, we are open throughout the week to serve you. However, please note that on Sundays, we operate by appointment only. This allows us to accommodate your needs conveniently, ensuring you receive the exceptional care and attention your plants deserve.
Additional Services
Consulting
Soil injection
Trunk injection
Bark spray
Tree & shrub identification
Hazardous tree assessment
Light Pruning
Tree planting advice
Composting advice
Contact Us Today!
So invest in the health and beauty of your landscape with I.V. Tree & Shrub Care. Our commitment to excellence, along with our expertise in plant health care services, makes us the go-to solution for all your tree and shrub care needs in Radford, VA, and the surrounding areas.
To schedule a consultation or inquire about our services, please reach out and contact us today! We look forward to partnering with you to create a vibrant and thriving outdoor space for your home or business.
Proudly serving:
FLOYD COUNTY, VA | GILES COUNTY, VA | MONTGOMERY COUNTY, VA | PULASKI COUNTY, VA | RADFORD, VA | RICHMOND, VA | ROANOKE, VA | WYTHE COUNTY, VA